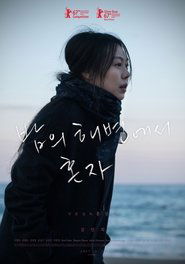 On the beach at night alone (de)
Originaler Titel:
밤의 해변에서 혼자
Auswertung:
6.5 (Stimmen: 91)
Veröffentlichungsdatum: 2017-03-23 (
2017
)
On the beach at night alone: Die Schauspielerin Young-hee (Min-Hee Kim) ist gestresst von ihrer Beziehung zu einem verheirateten Regisseur in Korea. Nachdem diese Affäre an die Öffentlichkeit gelangt ist, flüchtet die junge Frau nach Hamburg. Dort soll sie eigentlich auf ihren Liebhaber warten, der versprochen hat, in ein paar Tagen nachzukommen, aber so richtig glaubt sie noch nicht daran. Immerhin kann sie so Zeit mit ihrer alten Freundin Jee-young (Young-hwa Seo) verbringen, die vor vielen Jahren nach Deutschland gezogen ist. Und so fahren sie gemeinsam an den Elbstrand, unternehmen Spaziergänge im Stadtpark und treffen allerlei Bewohner der Hansestadt. Einige Zeit später ist Young-hee zurück in ihrer Heimat Südkorea, wo sie sich einen Film anschaut, sich mit alten Freunden und Bekannten trifft und bei einer Runde abendlicher Drinks mit ihnen über die großen Fragen des Lebens diskutiert...