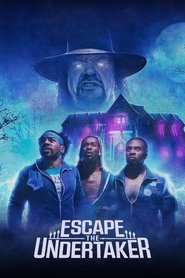 Escape the Undertaker (de)
Originaler Titel:
Escape the Undertaker
Auswertung:
5.5 (Stimmen: 36)
Veröffentlichungsdatum: 2021-10-05 (
2021
)
Escape the Undertaker: In diesem interaktiven Netflix-Film mit WWE-Superstars hat der Undertaker dem hochdekorierten Tag-Team The New Day in seiner Villa eine Falle gestellt. Was Kofi Kingston, Xavier Woods und Big E nicht wissen: Die Villa des Undertakers ist ein extremes Haunted House, das bis zum Rand mit übernatürlichen Herausforderungen gefüllt ist. Es liegt an den Zuschauern, über das Schicksal dieser drei armen Seelen zu entscheiden, die bestmöglich versuchen, den Zorn des Undertakers zu überleben.