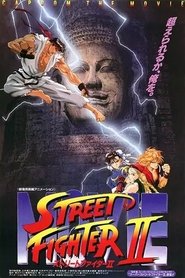 Street Fighter II - The Animated Movie (it)
Titolo originale:
ストリートファイター II MOVIE
Valutazione:
6.9 (Voti: 132)
Data di rilascio: 1994-08-06 (
1994
)
Street Fighter II - The Animated Movie: Ryu è un combattente dalle enormi capacità che dopo aver completato la sua formazione nelle arti marziali e padroneggiato la tecnica dell'Hadouken, decide di girare il mondo per capire meglio se stesso, e imparare dalla vita. Si lascia così alle spalle una amicizia/rivalità con Ken, suo compagno di allenamento che ha intrapreso scelte completamente diverse dalle sue e che mira ad uno scontro finale con l'amico, per stabilire definitivamente chi sia il più forte. Oltre a Ryu e Ken vi sono molti altri grandi combattenti noti come "Street Fighters", dotati di capacità così grandi da suscitare l'interesse di una organizzazione segreta molto pericolosa, nota come Shadowlaw. Guidata dal misterioso Bison, la Shadowlaw cercherà in tutti i modi di impossessarsi dei poteri degli Street Fighters di tutto il mondo per ottenere una forza incontrastabile...