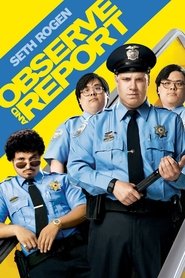 Observe and Report (it)
Titolo originale:
Observe and Report
Valutazione:
5.4 (Voti: 491)
Data di rilascio: 2009-04-10 (
2009
)
Observe and Report: Al centro commerciale Forest Ridge, il capo della sicurezza Ronnie Barnhardt combatte tutti giorni con pugno di ferro ragazzini sullo skateboard e taccheggiatori, sognando il giorno in cui potrà entrare nela polizia sostituendo la sua torcia elettrica con una pistola e un distintivo. Le sue manie di grandezza sono messe alla prova quando il centro commerciale viene preso di mira da un esibizionista. Deciso a proteggere e servire i clienti, Ronnie coglie l'occasione per dimostrare le sue doti di difensore della legge, da sempre ignorate da tutti, nella speranza di essere notato dalla Scuola di Polizia e da Brandi, la ragazza dei suoi sogni.