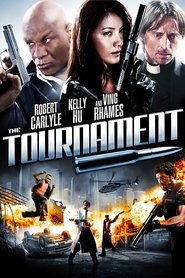 The Tournament (it)
Motto: Ogni 10 anni, i più grandi assassini del mondo si riuniscono ... Solo uno sopravviverà.
Titolo originale:
The Tournament
Valutazione:
5.9 (Voti: 474)
Data di rilascio: 2009-05-01 (
2009
)
The Tournament: Ogni sette anni viene organizzato una sorta di torneo in una località sorteggiata a cui partecipano i trenta più spietati assassini del mondo ai quali vengono installate delle microspie che segnalino continuamente la loro posizione. La gara dura un giorno intero e il vincitore otterrà un premio di dieci milioni di dollari. Tra i partecipanti ci sono una ragazza cinese abbandonata dai genitori, un sadico serial killer texano, un esperto di arti marziali russo e il vincitore della passata edizione del torneo in cerca di vendetta per l'omicidio della moglie.