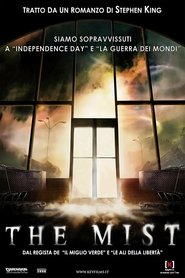 The Mist (it)
Motto: La paura cambia tutto
Titolo originale:
The Mist
Valutazione:
6.8 (Voti: 3723)
Data di rilascio: 2007-11-21 (
2007
)
Parole chiave:
artist
,
spider
,
bible
,
anger
,
monster
,
survival
,
prayer
,
fight
,
faith
,
thunderstorm
,
giant monster
,
fog
,
father son relationship
,
supermarket
The Mist: Dave Drayton vive con la moglie e il figlioletto Billy in una casa fuori città. Subito dopo una tempesta particolarmente violenta inizia a diffondersi una nebbia che non sembra avere ragioni meteorologiche. Insieme al vicino di casa Brent Norton (col quale non ha buoni rapporti) e a Billy Dave si dirige con il suo fuoristrada verso il supermercato locale. Lungo il percorso incontrano mezzi militari che si dirigono verso la nebbia. Brent fa allora riferimento a un misterioso Progetto. Ben presto tutti gli occupanti del supermercato si troveranno avvolti dalla nebbia all'interno della quale si muovono creature mostruose. L'incubo ha inizio.