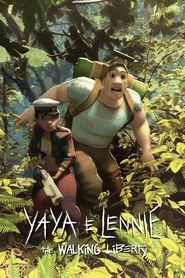 Yaya e Lennie - The Walking Liberty (it)
Motto: Una storia di amicizia, un nuovo inno alla libertà e al potere dell'immaginazione
Titolo originale:
Yaya e Lennie - The Walking Liberty
Data di rilascio: 2021-11-04 (
2021
)
Yaya e Lennie - The Walking Liberty: In seguito ad un misterioso sconvolgimento, il mondo, più sviluppato di come lo conosciamo oggi, è finito. La natura si è ripresa prepotentemente il pianeta ed ora la giungla riveste tutta la terra. Una nuova società sta cercando di risorgere, l'Istituzione, i cui adepti cercano di ripristinare l'ordine. Ma c'è chi si oppone con forza a questo processo di "civilizzazione": i dissidenti stanno preparando la loro rivoluzione! Questa è la storia di due spiriti liberi della giungla, che vogliono solo trovare il loro posto nel mondo, senza prendere le parti di nessuno. Yaya, una ragazzina di colore di circa quindici anni, sveglia, carattere rozzo, spirito indomito. E poi Lennie, un uomo di circa trent'anni, alto due metri e mezzo, affetto da un grave ritardo mentale.