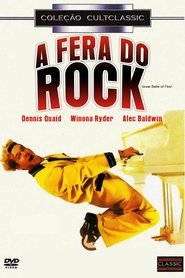 Rock de Fogo (pt)
Título original:
Great Balls of Fire!
Avaliação:
6.3 (Votos: 236)
Data de lançamento: 1989-06-30 (
1989
)
Palavras-chave:
child marriage
,
musical
,
underage bride
,
religious fundamentalist
,
train
,
rock 'n' roll
,
cousin cousin relationship
,
musician
,
older man younger woman relationship
,
bible belt
,
self righteousness
Rock de Fogo: Dennis Quaid oferece-nos uma "surpreendente e calorosa interpretação" (Gene Shalit, "The Today Show") como a provocadora estrela de rock'n'roll que quebrou todas as regras. Também com as interpretações de Winona Ryder como a noiva adolescente de Jerry Lee, Alec Baldwin como o seu primo evangélico Jimmy Swaggart e exuberantemente ao piano e a cantar, o lendário Jerry Lee Lewis em pessoa numa re-gravação, "Great Balls of Fire!" é um regresso às origens do rock'n'roll que o irão deixar "sem fôlego"!