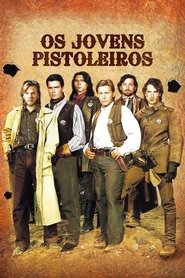 Jovens Pistoleiros (pt)
Slogan: Não conte as chances, conte os corpos.
Título original:
Young Guns
Avaliação:
6.7 (Votos: 664)
Data de lançamento: 1988-02-17 (
1988
)
Palavras-chave:
outlaw
,
western
,
1870s
,
billy the kid
,
anti hero
,
ranch
,
deputy sheriff
,
based on a true story
,
corruption
,
neighbor
,
sheriff
,
cowboy
,
bounty hunter
,
new mexico territory
Jovens Pistoleiros: 1878, Novo México. John Tunstall (Terence Stamp) recolhe jovens pistoleiros das ruas e os leva para trabalhar em seu rancho, além de ensiná-los a ler e educá-los. No entanto ele é um empecilho para um rico rancheiro, Lawrence G. Murphy (Jack Palance), pois ambos competem pela venda de carne. Um dia Tunstall é morto pelos capangas de Murphy e o juiz Wilson (Victor Izay) não pode fazer nada, pois o xerife Brady (Danny Kamin) é um dos capangas de Murphy. O advogado Alex McSween (Terry O'Quinn) persuade o juiz para nomear William Bonney (Emilio Estevez), Josiah Gordon Scurlock (Kiefer Sutherland), Richard Brewer (Charlie Sheen), Chavez y Chavez (Lou Diamond Phillips), Steve Stephens (Dermot Mulroney) e Charles Bowdre (Casey Siemaszko), que trabalhavam para John, como delegados com poderes para prender assassinos. Só que em vez de prendê-los Bonney os mata. Então os 6 amigos passam a ser caçados por forças do governo e caçadores de recompensa, com William adotando o nome de Billy, The Kid.