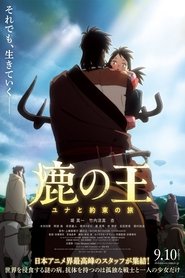 Shika no Ou: Yuna to Yakusoku no Tabi (es)
Titulo original:
鹿の王 ユナと約束の旅
Fecha de lanzamiento: 2021-10-03 (
2021
)
Shika no Ou: Yuna to Yakusoku no Tabi: Van es el jefe de un grupo de soldados que esperaban morir luchando por sus tierras contra un gran imperio que busca incorporar su hogar a su reino. Sin embargo, en lugar de morir, Van es tomado como esclavo y arrojado a una mina de sal. Una noche, una jauría de perros extraños ataca la mina y estalla una misteriosa enfermedad. Durante el ataque, Van aprovecha la oportunidad para escapar y conoce a una joven. En otros lugares, se está extendiendo el rumor de que solo los inmigrantes están sufriendo esta misteriosa enfermedad. El científico médico Hossal arriesga su vida para buscar una cura. Los médicos también estudian a un padre y un hijo que parecen haber sobrevivido a la enfermedad.