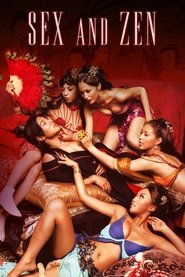 Sex and Zen Extreme Ecstasy (es)
Titulo original:
3D肉蒲團之極樂寶鑑
Evaluacion:
4.7 (Votos: 58)
Fecha de lanzamiento: 2011-04-14 (
2011
)
Sex and Zen Extreme Ecstasy: Un joven, inducido por un viejo monje, decide mantener relaciones sexuales con todas las mujeres que pueda. Esta forma de ver el mundo de este chico, no hace gracia a su recién casada esposa. En el transcurso de su búsqueda personal, el joven sufre las consecuencias de dichos actos y pierde su pene. Pero, nada más lejos de ser un problema, un hechicero le implanta el miembro de un caballo.