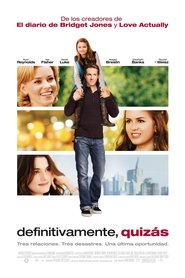 Definitivamente, quizás (es)
Eslogan: For Will Hayes, a second look at the past will give him a second chance at the future.
Titulo original:
Definitely, Maybe
Evaluacion:
6.9 (Votos: 1909)
Fecha de lanzamiento: 2008-02-08 (
2008
)
Palabras clave:
divorce
,
sex education
,
lovers
,
parent child relationship
,
affection
,
past relationship
,
narration
,
relationship
,
make a match
,
daughter
,
love of one's life
,
kiss
,
lovesickness
,
relation
Definitivamente, quizás: Will Hayes (Ryan Reynolds) es un papá de treinta y pico años en pleno divorcio. Su hija (Abigail Breslin) de diez años le pregunta por su vida antes de casarse, quiere enterarse de cómo se conocieron sus padres, de cómo se enamoraron. Para contestar a Maya, Will rememora el pasado de un joven idealista que aprende los tejemanejes de la política en una gran ciudad, y le cuenta que conoció a tres mujeres. Desesperado, intenta construir una versión "tolerada" para su hija y cambia los nombres de las protagonistas. Maya tendrá que adivinar con cuál de las tres acabó casándose. ¿Quién es su madre? ¿Emily (Elizabeth Banks), la novia de universidad de Will? ¿O quizá sea su amiga de siempre, su confidente, la apolítica April (Isla Fisher)? Aunque también podría ser una ambiciosa e inconformista periodista llamada Summer (Rachel Weisz). Maya empieza a unir las piezas del rompecabezas romántico de su padre y entiende que el amor no es fácil ni simple.